---
2011/07/02 [05:02] (Sat)
Kuching only the town I stayed at every night. My primary goal was explored the jungle of Southern Sarawak particularly looking for rafflesias, orangutans and proboscis monkeys!
Gunung Gading National Park

This park as known as "The home of rafflesia". This was first time I did trekking in jungle alone... This forest quite dangerous since the walking trails was not clear at times so have to find out all the signed on the trees and rocks. Sorry I didn't provide any nice photo for this park cause all the time I'm very rush and almost lost in the jungle. Also, unfortunately I didn't meet rafflesia since it's not the blooming season...
Semenggoh Wildlife Rehabilitation Centre

This is a great place to sneak a peek at orangutans!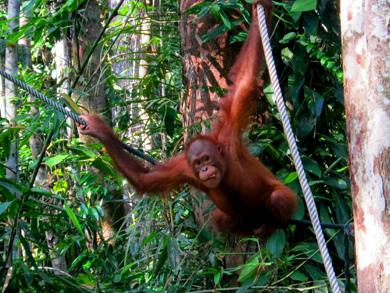 Borneo's orangutan!!!
All the trails for seeing urangutans were blocked since a lot of cases happened that they attack human. Actually I missed the morning feeding time so gotta wait at the centre around 5 hours without food for the noon feeding time... The group of orangutans appeared really makes me so excited!!
I think seeing wild animals may already be my new hobby~
Bako National Park
As Sarawak's oldest national park is natural sanctuary with coast and jungle. Also the best place to viewing probocis monkeys!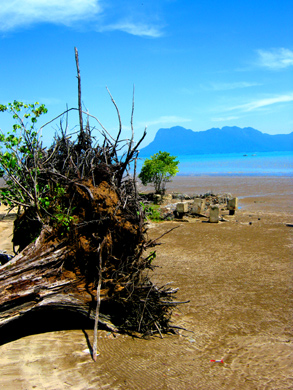 Amazing landscape!!!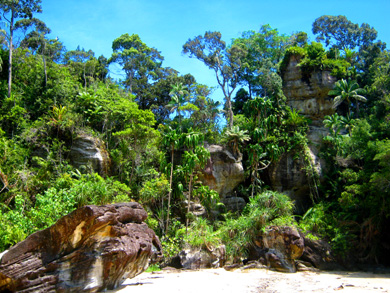 The most beautiful national park i have ever been!!!
I did the Telok Paku Trail but didn't meet any probocis monkey all the way... Lucky I saw it from a distance at park headquarters before I leave!
I pretty love this national park since it's
definitely more beautiful than I expected! Too bad LP wrote accommodation here is crap... Should be t
ry to sleep here few days
when visit again!!
Of course, Borneo's jungles much better than Peninsular Malaysia even Thailand!
Unbelievable this trips makes me more brave and
confidence since
I went to 2 national park and 1 wildlife center all alone!!! I'm amazing~ lol
PR
---
カレンダー(Calendar)
| S | M | T | W | T | F | S |
| --- | --- | --- | --- | --- | --- | --- |
| | | | | | | 1 |
| 2 | 3 | 4 | 5 | 6 | 7 | 8 |
| 9 | 10 | 11 | 12 | 13 | 14 | 15 |
| 16 | 17 | 18 | 19 | 20 | 21 | 22 |
| 23 | 24 | 25 | 26 | 27 | 28 | 29 |
プロフィール(Profile)

職業:
Freelance Game Artist
趣味:
play game + do art + go travel



最新記事(Recent Entries)
(03/13)
(03/08)
(02/29)
(01/21)
(12/25)
(12/01)
最古記事(Older Entries)
(08/21)
(08/24)
(08/29)
(08/31)
(09/08)
(09/18)
最新コメント(Recent Comments)
[03/13 CCF]
[03/08 CCF]
[01/26 CCF]
[12/27 CCF]
[12/02 CCF]
[11/22 CCF]