---
2011/10/05 [18:25] (Wed)
Lonely Planet highly recommended that HuangShan is one of the best of China and the director of Avatar, James Cameron said that it was the HuangShan mountains that inspired idea to him! So this was a top sight on my trip besides Great Wall!
TunXi
TunXi also called HuangShan Shi is the village that close to the HuangShan mountain.
Old Street of TunXi is a souvenir street lined with wooden shops and Ming-style HuiZhou buildings.
Since I no any booking for hostel in China so I worry there is no room on HuangShan moutains... Lastly, I found this place to stayed and woke up early in the morning to readied went to HuangShan! This is a beautiful ancient town that totally unexpected! Also, I met up 2 hardcore backpackers here and we travel together for next several days and we had a really great time from TunXi to NanJing!
HuangShan
HuangShan is a mountain range located in AnHui province.
Scenery in HuangShan.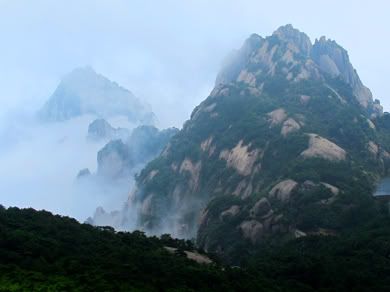 The view from top of HuangShan called "Bright Summit Peak"!!
I'm not lucky on that day in HuangShan since there are rainy day and full of haze so a lots of spectacular view were blocked by haze... And many loud talking tourists disturb my good mood... Although it's flawed but I'm still enjoyable all the way!
XiDi
XiDi is a ancient villages in southern Anhui province.
The most picturesque scene in AnHui!
Beautiful enviroment of XiDi.
This impressive sight was introduced by the 2 hardcore backpackers from Macau and Taiwan! It's increasing popularuty and as a Unesco World Heritege site! I stayed half day here and took few hours sit on the chair to enjoy the beautiful landscape! I love ancient village so much~
After AnHui province I went to NanJing by night train to save one night accommodation!! Keep moving~
PR
---
カレンダー(Calendar)
| S | M | T | W | T | F | S |
| --- | --- | --- | --- | --- | --- | --- |
| | | | | | | 1 |
| 2 | 3 | 4 | 5 | 6 | 7 | 8 |
| 9 | 10 | 11 | 12 | 13 | 14 | 15 |
| 16 | 17 | 18 | 19 | 20 | 21 | 22 |
| 23 | 24 | 25 | 26 | 27 | 28 | 29 |
プロフィール(Profile)

職業:
Freelance Game Artist
趣味:
play game + do art + go travel



最新記事(Recent Entries)
(03/13)
(03/08)
(02/29)
(01/21)
(12/25)
(12/01)
最古記事(Older Entries)
(08/21)
(08/24)
(08/29)
(08/31)
(09/08)
(09/18)
最新コメント(Recent Comments)
[03/13 CCF]
[03/08 CCF]
[01/26 CCF]
[12/27 CCF]
[12/02 CCF]
[11/22 CCF]